Submitting details.
Please wait ...
LIST YOUR BUSINESS ON THIS POPULAR WALL MAP - LIMITED SPACES AVAILABLE.
The Goldfields Business Planner is delivered FREE to all businesses in the Goldfields Region and has become a household name in the area. It's a practical reference tool showing the whole year at a glance, whilst also being a great opportunity for local advertising.
Even with the arrival of digital calendars, people love a hard copy that's easy to scribble on, never runs out of batteries and is big enough to see at a glance.
Highlighting local events, attractions and diary dates our Business Planner is a simple but effective way to put your business in front of people year-round. Only 40 advertising spaces available, so reserve your spot now!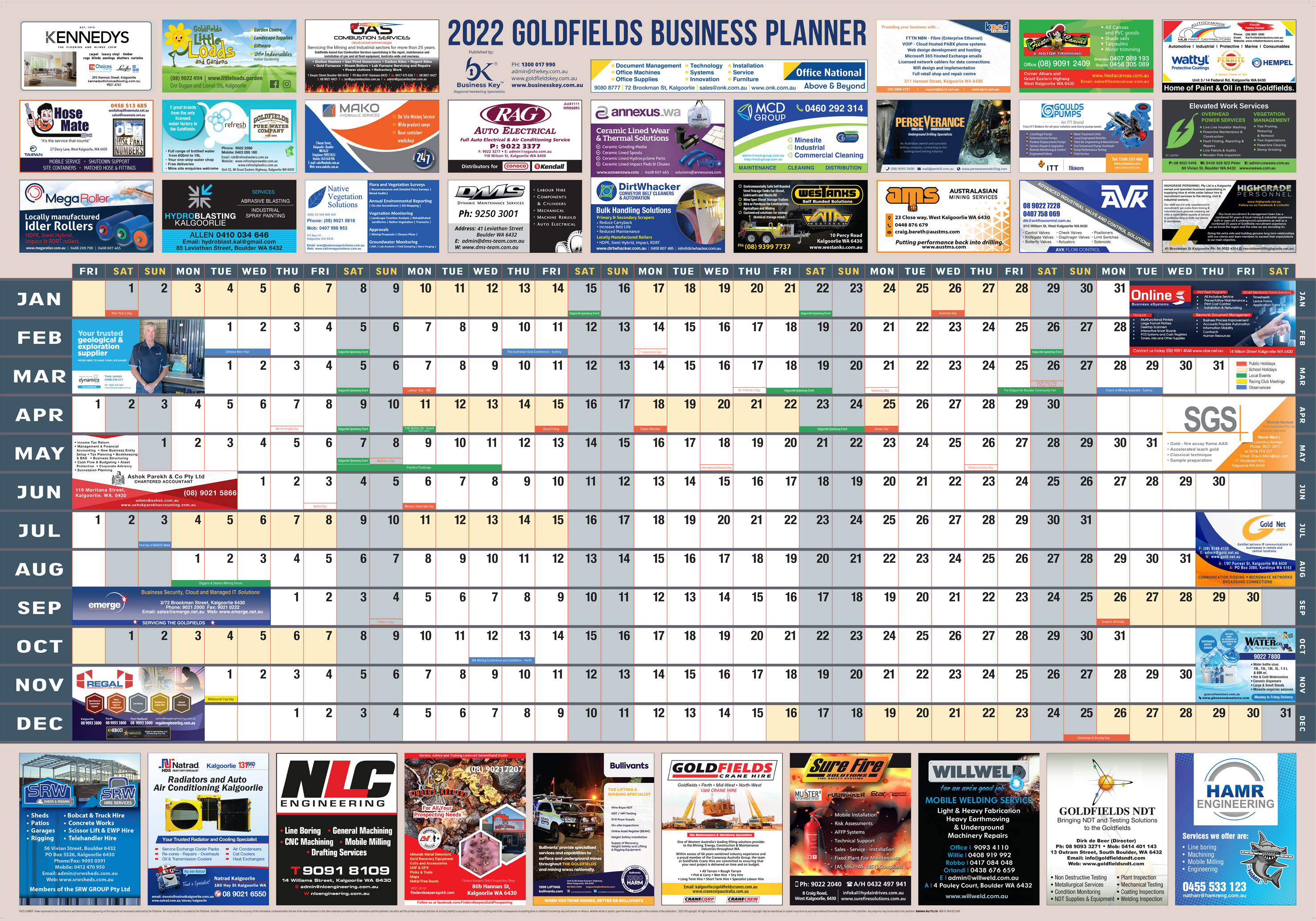 Download or view the Business Planner in PDF Reserve My Spot
The Bigger Your Ad the Greater Your Impact
With limited spaces available, bigger is better when it comes to your Ad. There are 5 Ad sizes to choose from, so remember
The bigger your ad, the greater the impact
The bigger your ad, the bigger you appear to be
The bigger your ad, the more you can say
2023 Goldfields Business Planner advertising rates
Ad spaces are limited, so reserve yours now!
Unit D1
103 mm x 118 mm (WXH)
$1,800 + GST
Unit D2
93 mm x 117 mm (WXH)
$1,600 + GST
Unit D3
102 mm x 57 mm (WXH)
$990 + GST
Unit D4
128 mm x 57 mm (WXH)
$1,150 + GST
Unit D5
77 mm x 57 mm (WXH)
$850 + GST
Unit D6
103 mm x 56 mm (WXH)
$950 + GST
Unit D7
153 mm x 30 mm (WXH)
$885 + GST
Unit D8
213 mm x 26 mm (WXH)
$950 + GST
Unit D9
128 mm x 57 mm (WXH)
$850 + GST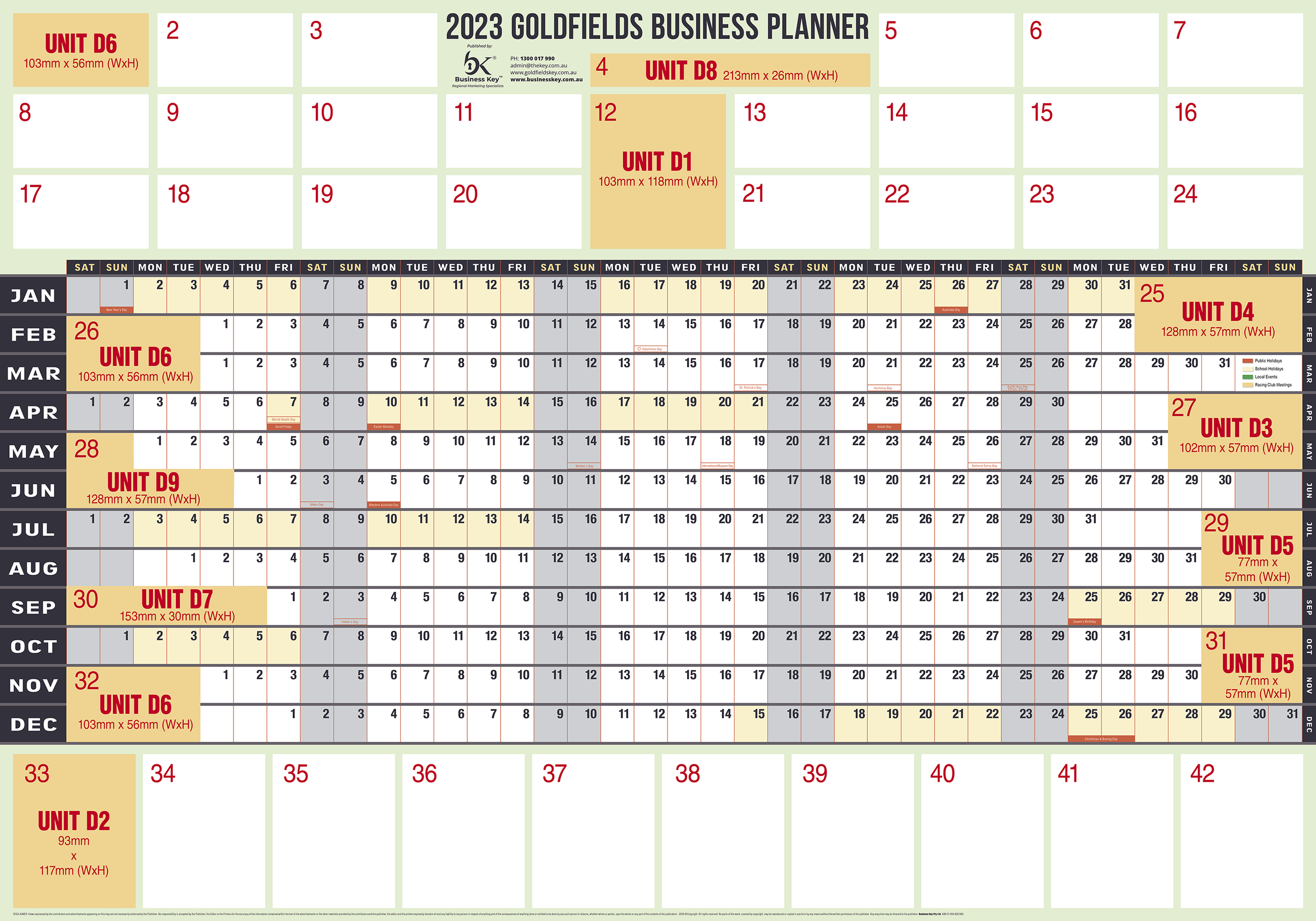 How to Present Your Artwork for Advertising
No crop marks or bleed are necessary.
Provide artwork as a high resolution pdf (300dpi minimum) with fonts embedded.
Please send the ready artwork files to admin@thekey.com.au
| Advertising Unit Reference | Recommendations for Artwork |
| --- | --- |
| Unit D1 | 103mm x 118mm (WxH) no crop marks or bleed are necessary |
| Unit D2 | 93mm x 117mm (WxH) no crop marks or bleed are necessary |
| Unit D3 | 102mm x 57mm (WxH) no crop marks or bleed are necessary |
| Unit D4 | 128mm x 57mm (WxH) no crop marks or bleed are necessary |
| Unit D5 | 77mm x 57mm (WxH) no crop marks or bleed are necessary |
| Unit D6 | 103mm x 56mm (WxH) no crop marks or bleed are necessary |
| Unit D7 | 153mm x 30mm (WxH) no crop marks or bleed are necessary |
| Unit D8 | 213mm x 26mm (WxH) no crop marks or bleed are necessary |
| Unit D9 | 128mm x 57mm (WxH) no crop marks or bleed are necessary |